MoRE 2.0 Conference Draws Attention Toward Attendee Lists Spam Emails
The MoRE 2.0 Conference is just around the corner and the excitement is in the air! In preparation for this prestigious event, it is important to make sure that attendees know to be aware of potential spam emails trying to collect personal information. In order to protect the privacy of attendees and their data, please take note that there may be malicious emails pretending to be associated with the conference or its sponsors.
One such scam concerns attendee lists. We want to reassure everyone that we do not share our attendee lists with phone numbers, emails, or any such personal details. The MoRE 2.0 Conference team has reported the scammers using the spam email shared by one of our attendees.
Have a close look at the scammer's email sent to defraud the attendees: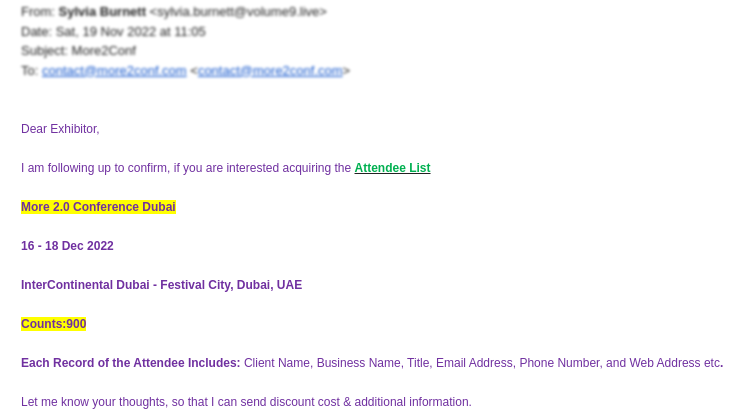 We want to highlight that if you encounter such an email from an unsolicited email address referring to be associated with the MoRE 2.0 Conference, you don't have to believe them. Instead, there are some suggestions made by our team that can help us in fighting the scam.
Suggestions By MoRE 2.0 Conference Against Spammy Emails
Share the details of the spammy email with us and we will further look into the matter.
Avoid sharing your personal data with fraudsters without verifying their identity. Always be cautious of the senders, even if they claim to be associated with an organization, like MoRE 2.0 Conference.
If you come across any such scammer or have experienced anything like that in the past, please let us know. We don't want you to get into trouble because of these fraudsters. Let's support each other against these scammers by bringing them to book!
Report To Us Now!
The MoRE 2.0 Conference team is ready to stop these scammers from spamming your inboxes with fraudulent emails and fake promises, are you ready to report them?
Please provide us with the following information.